Desserts
2011年10月17日
ZenQ Desserts

There's a sudden urge for me to post something of the food and something of the sweet (which shows that I'm really hungry in the office right now) and thus, I remembered one of the most awesome dessert that I ate a few months back.

ZenQ serves Taiwanese desserts and drinks to their customers in a big portion(depending on which desserts and drinks you choose) with a relatively affordable price. There are a wide range of desserts and drinks to taste; from Grass Jelly series to Bubble Tea and from the traditional Red Bean Soup to Shaved Ice.


I've ordered their signature dessert below
during me and my friends' trip to the Sunway Pyramid branch as a try-out.
: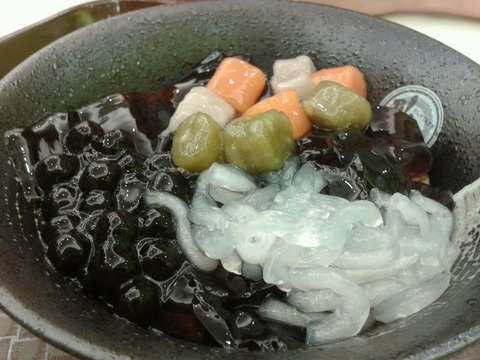 And let me reminds you that the portion is BIG(and when I said BIG, it IS really BIG) and it can last you for either one of the heavy meals in a day. If you've taken breakfast, lunch or dinner before tasting this dessert, I can assure you that you won't be able to finish this alone. Recommended if sharing



Okay, my comments on the taste:

Seriously nice!





It's not like your usual ice kacang with mix of crunchy, soft and smooth to feel ingredients such as peanuts, Atap seeds, etc. This big bowl of Signature is all about chewy and smooth with addition of milk and syrup to taste. If you plan to exercise your gum, just forget about chewing gums and get a bowl of this instead. I can assure you that every bite of the ingredients is an exercise to your gum as it is extremely chewy. Also, because it is chewy, it's a good dessert for those who likes to slowly spends time with friends, sitting and chit-chatting away during a hot afternoon while chewing the cool ice and ingredients away in your mouth.


Visit their Facebook fanpage to find out more:
HERE