2013年07月01日
Japan's trip #2- The TYB visit spree
Shibuya - Kirishima Iori (CV: Suzuki Tatsuhisa)
Instead of visiting the machi, we visited the Meiji shrine, one of the famous shinto shrines in Japan. The garden surrounding the shrine is basically large and we were greeted by green scenery upon arrival. The atmosphere in the garden is cooling even though it was around noon since the trees are covering up the sunlight throughout the walking route.
As per the usual custom, we washed our hand at the chozuya near the tori before entering the shrine, went in and took a few pictures. I managed to get an omamori for my mom here~





Look at the amount of ema hanging near the sacred tree XD



○●○●○●○●○○●○●○●○●○○●○●○●○●○○●○●○●○●○○●○●○●○●○○●○●○●○●○○●○●○●○●○○●○●○●○●○○●○●○●○●○○●○●○●○●○
Harajuku - TYB representative: None
Fashion~ fashion~ and fashion. The whole street is full of trendy shops from clothings to accessories especially cute ones. Aside from that I noticed that there are a few sweets shops especially those selling crepes are famous among the joshikousei and the line to buy their crepes are long~ Even though it was daytime & weekday when we visit, this street is still full of teenagers and young adults craving for trendy fashion to satisfy their thirst.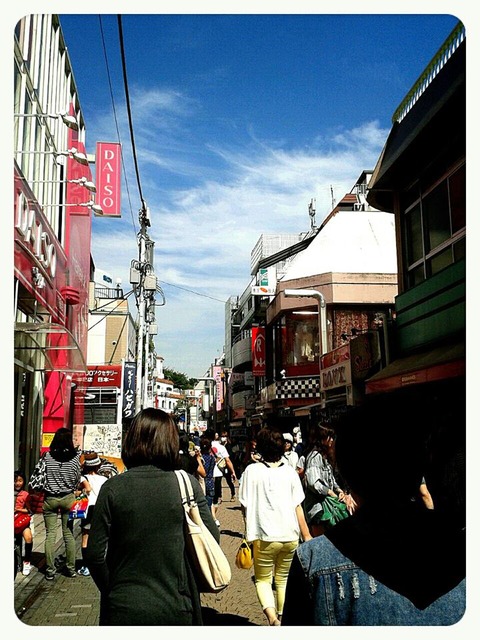 Trendy shops all around every corner of the street~

○●○●○●○●○○●○●○●○●○○●○●○●○●○○●○●○●○●○○●○●○●○●○○●○●○●○●○○●○●○●○●○○●○●○●○●○○●○●○●○●○○●○●○●○●○
Shinjuku - Ninomiya Yuuto (CV: Suzumura Kenichi)
A mixed metropolitan city. You can find foods paradise, shopping heavens, entertainments, etc in this ward alone. We went to tryout Ichiran ramen, whereby you can customize your own bowl of ramen(this suits me very well since I don't really like to eat meat) so i ordered one bowl without pork meat. The soup and the noodle came out just nice even though without any meat

Of course, cheap shopping can also be found around the streets here~



Nightlife at Shinjuku

○●○●○●○●○○●○●○●○●○○●○●○●○●○○●○●○●○●○○●○●○●○●○○●○●○●○●○○●○●○●○●○○●○●○●○●○○●○●○●○●○○●○●○●○●○
Ikebukuro - Misaki Koutaro (CV: Morikubo Shoutaro)
A place centered for otome. Basically, whatever you want and need to satisfy your satisfaction towards your fangirlism towards otome and BL related stuff, you can find them here. Walk towards Otome Street and you can see a red carpet lineup of merchandise shops, books, etc inviting you to walk in and come out with at least something in your hand. Oh! Did I mentioned Swallowtail Cafe, the famous butler themed cafe is just around the corner of this street as well?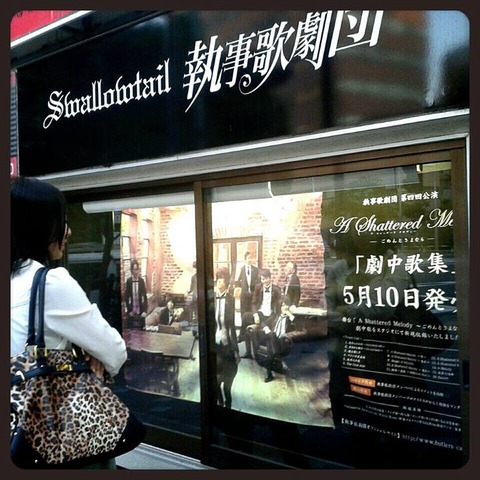 Swallowtail Musical at a nearby theather for fans. Some of title of the songs are funny though LOL

Our dear friend, Camelia made a booking about 1 month before the day we stepped into this cafe(yes, reservation prior 1 month is needed FYI) for teatime. It costed around 3,000yen+/- per person for the set of the teatime food and the service of a butler serving your table and calling you "Ojousama(My lady)". Some of you might think that's crazy going for 3,000yen for just a set of teatime food but the selling point of this type of shop isn't here. What you are paying for is mainly the experience of the butler service and the environment and of course, some portion of the money goes to the food that you are eating. BUT! Being a sweet-tooth person, I like their teatime desserts very much so, together with the service(although we were being served by a young & inexperience butler) and the environment, it is still worth it

○●○●○●○●○○●○●○●○●○○●○●○●○●○○●○●○●○●○○●○●○●○●○○●○●○●○●○○●○●○●○●○○●○●○●○●○○●○●○●○●○○●○●○●○●○
Ueno - Moroboshi Tetsu (CV: Toriumi Kousuke)
Okay~ He's my favourite boy from TYB(who wouldn't like this cute oniisan

), a representative from one of the shitamachi of Tokyo, Ueno. Ueno is basically a cultural place, housing museums(those artsy museums and a science museum) and a few halls. Our visiting spot at here is the Ueno Zoo(well, one of the dating place with Tetsu in the game

).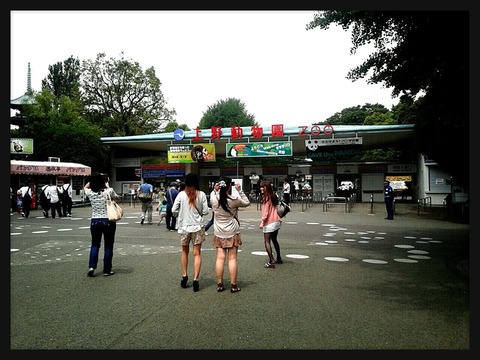 Walk past through a park with Hideyo Noguchi statue(That's the 1000 yen man!!!) and you'll arrive at the main entrance of the zoo. Entrance fee needed.

Like normal zoo, this zoo also houses animals from the mammals to amphibians, from the diurnal to nocturnal and from the artic to antartic. I think the famous animal here would be the couple panda Shin Shin & Ri Ri. The only panda in view at the time of visit is Ri Ri since Shin Shin is pregnant. You can find a lot of panda merchandises at the shops in the zoo alongside with other animal merchandises.
○●○●○●○●○○●○●○●○●○○●○●○●○●○○●○●○●○●○○●○●○●○●○○●○●○●○●○○●○●○●○●○○●○●○●○●○○●○●○●○●○○●○●○●○●○
Akihabara - Isono Rui/Lucy (CV: Kaji Yuuki)
While Ikebukuro caters to ladies' thirst over otome and BL obsession, this Akiba denki gai caters towards boys. Girls dressed as maid standing in the middle of the street calling for customers to visit the maid cafes lying on the street are normal sight here aside from the shops selling various otaku based items from games to books. This is the best place to grab your latest electronic games(well for me as a gamer) and goodies from your favourite anime, manga & games. Some of the adult spots are located here too, mainly underground of buildings.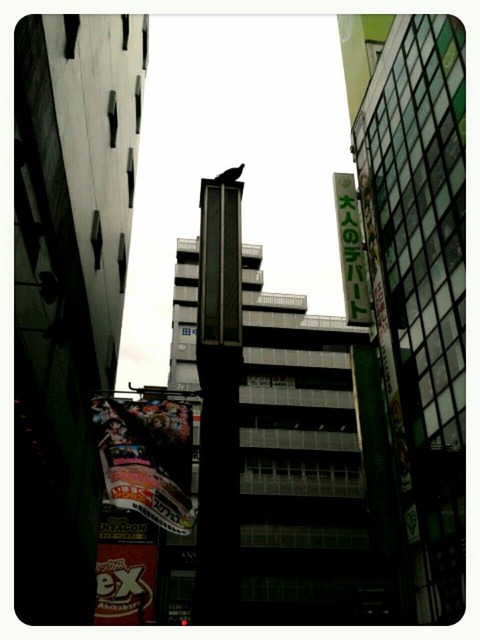 Just outside of the Akiba's station~


TYB that is not in the list of my visit

Roppongi
- Rudou Jesus(CV: Namikawa Daisuke)
Shinagawa
- Hamada Shinnosuke(CV: Suwabe Junichi)
Meguro
- Kujou Takumi(CV: Yusa Kouji)
Sugamo
- Momose Ayumu(CV: Yonaga Tsubasa)