2012年12月28日
Quick update
Dooms day & CF2012 passed just this weekend. Event was fun(I think the best one for years I've attended Comic Fiesta

) with everyone around and hosting akane & taking both her & Dai Lou out for food made me exercise more(I have legs pain on Christmas eve and Christmas day

).
The human traffic at the event was amazing. Congratulation to CF for growing bigger and bigger each year!!!!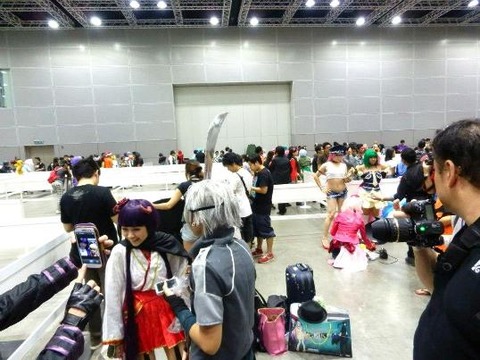 More story under the cuts

I almost thought it was Dooms Day on Christmas eve when I found out that there's no water supply due to pump leakage after I happily shopped for fabrics. It was near night and my family was running around packing cloths and toiletries to take a bath at our old apartment which is around 10minutes drive after our dinner outside.
2013 is coming and I wonder what would be the new theme for the Batsu game that they are going to do(OI!!! Not this one

). New Year resolution.... hurm.... I don't wish for much except for bonus & salary increment(so that I can save enough money for trips).
And YEAY!!!!! I got myself a copy of Professor Layton vs Gyakuten Saiban!!!!!!

I don't really regret getting Momo-chan & this game. It IS GOOD!!!!!! The beginning of the game is already attracting me: quite surprise and really like the BGM of the main screen. It's a mixed of Gyakuten Saiban & Professor Layton main theme in orchestra version.
Being a crossover game, I think the story between these two games blended quite well. It started out with predator-victim chase between a witch and Mahone and slowly into how Professor Layton & Luke are involved in this mysterious case and how Naruhodo & Mayoi got themselves into the loop as well. In terms of characters, this game doesn't lose the touch of comedic sense from the original Gyakuten Saiban and the gentleman sense from the original Professor Layton. They are maintained & blended quite well and the fact that Takumi Shuu was actually given the full power to design this game from both totally different art sense & style series doesn't affect the balance of these two games. Voice acting wise, I'm a bit disappointed with Naruhodo & Mayoi(as they are using the actor & actress from the live action movie to do the job and they aren't trained to be voice actors but oh well~) but I'm pretty much happy to see Oizumi-san & Horikita Maki making a comeback as Layton & Luke. Not to forget, Professor Layton is yelling the famous "Igiari!". Also yelling the famous "Igiari!" was Jeeken who is voiced by Miyano Mamoru!!!!!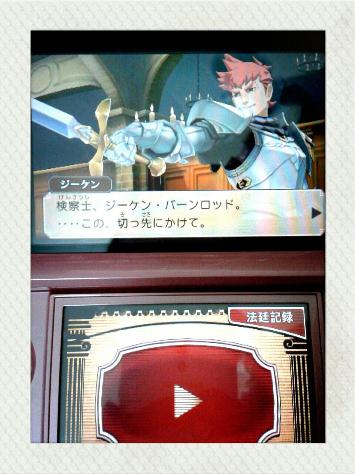 As usual, we have puzzles when we play Professor Layton side of story and we have defending job when we go through Naruhodo side of story. There are crossover part of the puzzles between these two series as well as slightly different interrogation gameplay during the court session as mentioned in the website as well as magazines out there and I am yet to try it since I haven't reach that part of the game yet~